The Coronado Art Walk is typically held on a Saturday and Sunday at the Coronado Ferry Landing from 10:00 a.m. till 5:00 p.m. The 2-day Coronado Art Walk is put on by the Coronado Historical Association and is an admission free, public event designed to foster creativity and appreciation for the wonders of art. Artists will be housed in tented booths along the entrance and on the grounds of the Coronado Ferry Landing. Paintings, hand crafted jewelry, photography, ceramics and other mediums will be featured. Artists have been selected for their ability to express the vast and varied world of art in their particular art form. This exciting venue will include free sponsored art activities to delight both children and adults including face painting, hat decorating, weaving, "Paint a Square" project, knitting & crocheting and card making to "Send Sunshine to Soldiers".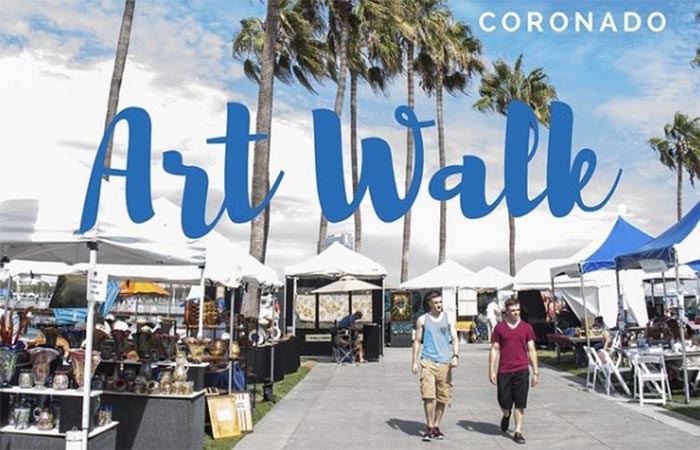 Other highlights include: Participation by the Coronado Ferry Landing's Restaurants, Galleries and Shops, as well as musical entertainment throughout both days from the Ferry Landing Stage. It's the perfect weekend to debate the definition of abstract art, or just grab delicious food and enjoy live music.
Coronado Art Association's Artist displays in Spreckels Park may be reached by the free Coronado Shuttle Bus, which runs every thirty minutes with a routing that stops at the Coronado Library, downtown Coronado and Spreckels Park. If you find parking difficult, consider parking along the free Coronado shuttle bus route.
Yes, dogs are welcome, but they must be leashed and in your control. Also, you will need to have the means to clean up after them should the occasion occur.
This year there is a charge for parking on the Ferry Landing property. On the south side there is a ticketed parking entrance. Most restaurants validate for three hours, merchants validate for one hour, the next hour is $1.00 if you have the validation and $4.00 per hour after that.